NIGER PRIME MINISTER IS IN TURKEY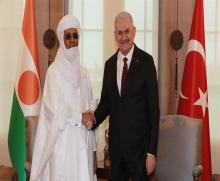 Prime Minister Binali Yıldırım held a joint press conference after the inter-delegation talks between Niger Prime Minister Brigi Rafini in Çankaya Mansion.
Prime Minister Yildirim said he is happy to wellcome Rafi.
Yıldırım stated that they are focusing on issues such as developing bilateral relations, increasing trade, providing support in education, infrastructure and housing projects. TIKA is already considering social responsibility projects in the region.
He said one hospital, one park and a school building are almost about to open in Niger withTurkey's support. Yıldırım said that Niger-Turkey relations have a deep history.
AFRICAN APPROACH
"The relationship between Turkey and Niger has been established in Ottoman Empire era.
Establishments of embassies and direct flights are good steps to strengthen the historical relations. Within the African Approach strategy in 2005 we rised the number of embasies from 12 to 39. Also Turkey is the only country which have direct flights to Africa. Curently Turkish Airlines have 51 routes in 33 African countries. This is a great advantage for strenthening of these two countries. Our embassies are active.
We also have spesific education agreement with Niger government. Our target is to rise the number of granted Nigerien students in Turkey.
Ourcapitals; Ankara and Niamey are now brother cities. Ankara municipality will realise good projects in Niamey.
The collobration in health sector is going ahead. The hospital's construction will be finised in this year under TIKA's coordination. Also we will be opening a school in Niger with capacity of 1260 students in this year."said PM Yildirim.
COUNTERTERRORISM
During the meeting,Yildirim indicated Turkey's hard fight against terrorism especially against ISIL, PKK/YPG/PYD and Fettullahist gang.
Turkey on the one hand YPG / PYD and the PKK value while striking Dease and Yildirim struggled with Feton, found the following assessment:
"I have specifically informed the Prime Minister about the purpose, scope and purpose of the Olive Operation in recent days. Niger is in a rigorous work on terrorism, especially the terrorist organizations such as Al-Qaeda and Boko Haram, which originate from instability around the country, in order to prevent any disturbance of stability are showing serious effort. We evaluated these efforts of Niger government face to face.
Also Niger participated to Islamic Conference in regards of USA's wrong decision about Jerusalem case. Nigerien delegate negative vote in UN meeting against USA. So Nigerien government owned the Palestin and Jerusalem problematics.
Prime Minister Yıldırım stated that President Erodan realised an official visit to Niger in 2013 and relationships reached to stronger level after this visit.
YOU BROUGHT ABUNDANCE TO TURKEY
He reminded that Nigerien President and President of The Assembly visited Turkey in 2014. He said :
This is the first visit of a Nigerien prime Minister in this level. This is very important step to strenghen our relations. After that, the business, making the need of the agreements made at the same time the Joint Economic Commission for a moment before determining the co-chairman of the Niger-party mutual economic and bilateral This visit has been a very timely and beneficial visit.I thank you Rafini and his delegation.You have brought abundance to my country. The expecting snow began here in Ankara today.We expected a rainstorm.We thank you for that.
" Niger located next to Turkey during 15July coup. Morover you closed all schools of FETO in Niger which also tried that military coup. You delivered these schools to Maarif Foundation. So i present our thankgivings to you. Our support to Niger's counter terrorism will proceed"

News Date: 25 / 01 / 2018


News Comments: 0